Welcome to the Dogpile!!!
Glad you decided to stop by my little den in cyberspace. It's been a long while since I have updated and so much has happened! Lots of it good things!
As you can see I have a more wolfish look to things, that's because I'm now finally getting to live out one of my dreams, Werewolfing at Molly Crenshaw's Haunted Forest
05/14/2005
Wow it's been a long while since an update and an interesting one too!! Lots of good and bad things. I'm still working at Molly Crenshaw's as the Alpha Wolf of the Crenshaw Pack. Also, working with Running Wolf Productions, to help them get the word out about their wonderful work. MFM 9 is really going to rock this year with lots of new and awesome things! Also we are working hard on things for MFM 10 and all I can say is you ain't seen nothing yet!
Sadly last Fall we lost our beloved Rotti, Hund. He is greatly missed We have been considering getting a new puppy....time will tell. All the other dogs are doing great though, rotten as aver!
We have lots to look forward to in the coming year with Maui moving up here from Texas in 2006 and getting to actually spend time together instead of just having the family together a couple times a year.
The New Partners In Crime from MFM 2004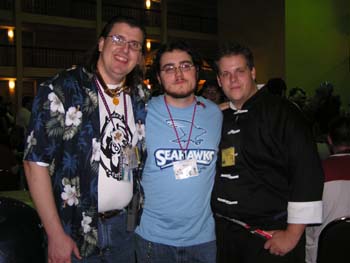 This year Spike and I joined a team at our favorite watering hole The Bad Dog Saloon for the local dart league. Also Spike and I competed at the Bad Dog for their Easter Bonnet contest and won 1st and 2nd place. You can see our works of art here. We also have Pride Saint Louis coming up in just a couple weeks too! Lots of pictures will be taken so I will update with those as soon as I'm able. We will once again be marching in the parade with Cheap TRX so it will be lots of fun I'm sure! Come on out and join us!
My World
Where to find me!
The easiest place to catch me is online. Usually if I'm not online I'm off on some sort of adventure (yeah right) So if you don't find me, just drop me an email!
E-mail address
tygrcwby@hotmail.com or furtravel@hotmail.com
ICQ: 1960379 AIM: tygrcwby Yahoo!: tygrcwby and MSN: tygrcwby@hotmail.com
I can also be for on the Furnet or Anthrochat IRC networks as TygrCwby
Web address
I have a webpage finally (you are here after all) that I am currently working on and transferring from my old page. I hope to be better about updating on a more regular basis!
Upcoming Events
The following are the events Spike and I are working on or planning on being at over the next few months. These events are our vacations so we really try and make the best of them!

Mephit Fur Meet

ShowMeCon

Archon

Molly Crenshaw's Haunted Forest

MidWest Fur Fest

Furry Weekend Atlanta
A little about Tyggie
Well here is where you get to find out more about me. I just turned 40 on June 6th and even though I may be older, I refuse to grow up. So much of life we have to be serious, so I am a firm believer that when you have the chance….live life to it's fullest!
Spike and I are currently living in Saint Louis in what is referred to as the "BBH" or "Furry Central". It's not the fanciest place in the entire world but it is our home and we are looking forward to Maui joining us early Summer 2006. We have seen numerous furs come through our house for visits or various furry weekends we plan. Here are a few "Family" pictures. We have 3 dogs. Mitchell and Kima are both Huskies and are really fun. Dusty is a Australian Shepard and Lab mix, she is our household protector.
I grew up in Dayton and was involved in a local hockey team there. I pretty much kept to myself other than that. I moved to Houston Texas for the company I was working for at the time and spent 13 years there. During that time I was involved in the Texas Gay Rodeo Association. It was really a lot of fun. I was also involved in several other organizations that raised a lot of money for AIDS and HIV patients.
I found furry about 8 years ago now. I stumbled across a web page and found a anthro tiger picture and the rest was history. I'm not really close to my natural family, so my mate Spike, his family and my friends in Furry are my family.
I am very active in the local Furry Community and also the Saint Louis Community at large doing appearances at various events. I'm also active with the group that puts on Molly Crenshaw's Haunted Forest every year.
My Favorite Places On The Web
<![if !vml]>

<![endif]> My Live Journal
<![if !vml]>

<![endif]> Tiger Haven

Cheap Trx

Terry Cruikshank Creations

Running Wolf Productions

Tyger's Appearances on the WWW
Last revised: 6/16/2004